Articles menu
What is carry trade and how to profit from it?
What if you simply do not have the time to trade the markets day in and day out and you are looking for that one trade to hold and prosper from in the currency markets? One simple way to do so is bet long term on a currency pair with high overnight interest, such as AUDUSD or AUDJPY. Behind the scenes, the investor is selling/borrowing a low-yielding currency (USD or JPY) and investing in a high yielding currency (AUD). The investor is hoping to gain from the accumulated overnight interest of holding such a pair. This accumulated overnight interest is known as the "the carry" and thus the approach is called the Carry Trade Strategy.
To start with such a strategy, one first has to research the interest rates of differing currencies.
How does one find the interest rates of currencies?
There are many places to look on the web:
For instance, www.worldinterestrates.info presents the interest rates in an easy to read table like the one below (accurate as of March 2013):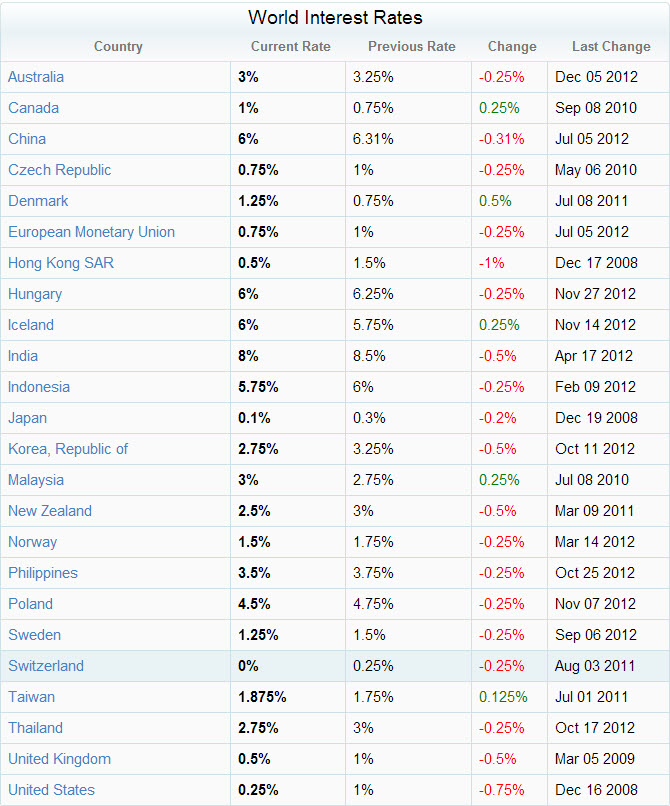 From the chart above, you can gather that the Australian rate of 3.00% significantly greater than the slim 0.25% of the United States or 0.1% of Japan or 0% of Switzerland. To get on board these carry trades, an investor would sell (borrow) the US Dollar or Yen or Swiss Franc and buy (lend) the AUD, and thus the investor would be long AUDUSD or long AUDJPY or long AUDCHF. The interest rate differential between the pairs is your yearly interest:
Long
AUSDUSD
AUD Rate
3.00%
USD Rate
0.25%
Yearly Rate
2.50%
(3.00-0.25)

Long
AUDJPY
AUD Rate
3.00%
JPY Rate
0.10%
Yearly Rate
2.90%
(3.00-0.10)

Long
AUDCHF
AUD Rate
3.00%
CHF Rate
0.00%
Yearly Rate
3.00%
(3.00-0.00)
The yearly bank interest rates on being long the above currencies are only a rough estimate of what you can expect. In reality, in order to get the real overnight interest rate you will earn at your broker, you have to find the overnight swap rate of your preferred currency pair directly from your broker. The problem is, brokers themselves charge different rates than the banks.
You can search for an online website that tracks rates between brokers (such as ForexOp Carry Trade) or you can discover different rates yourself by applying a swap tracking indicator or EA to the demo account of the broker you are researching. One of the swap rates EA presented below is showing the swap rates of multiple pairs within the MT4 broker account:
Here is a screenshot below from Alpari UK:
To get a rough estimate of your yearly interest, multiply the daily rate you see by 360. Rule of thumb from the above chart: Currency pairs becomes attractive as a potential carry trades only when the daily positive swap is greater than 6.0, which is approximately 2% annual return.
Example: Long AUDUSD (at Alpari UK) at $9.50 * 360 = $3420 per 100,000 unit, or a 3.42% annual rate, 1% below bank expectations, whereas long AUDUSD (at Admiral) at $1.4 * 360 = $504 per 100K, 0.5% annual rate, 3% below bank expectations. Apparently, we must factor in that some broker rates are very meager, at least if you want to earn on the positive side.
For more on calculating swap rates of your broker, go to our article Overnight Interest (Swap Rate).
Historical Interest Rates are Important
When you are thinking of trading long term on a currency pair, it is vitally important to consult the historical interest rates for that pair.
Below is a snapshot of Oanda's historical interest rates from Jan 2006 to Feb 2012 of AUD:
OANDA FXTrade

| | | | |
| --- | --- | --- | --- |
| CURRENCY | BID | ASK | DATE |
| AUD | 3.8500 | 4.3500 | Mon Jan 30 08:13:39 2012 |
| AUD | 4.1000 | 4.6000 | Tue Nov 1 02:25:50 2011 |
| AUD | 4.4500 | 4.9500 | Tue Nov 2 10:39:57 2010 |
| AUD | 4.2000 | 4.7000 | Wed May 5 09:42:27 2010 |
| AUD | 4.0000 | 4.5000 | Tue Apr 6 00:36:56 2010 |
| AUD | 3.7500 | 4.2500 | Tue Mar 2 02:06:24 2010 |
| AUD | 3.5000 | 4.0000 | Tue Dec 1 01:40:01 2009 |
| AUD | 3.4000 | 3.9000 | Tue Dec 1 01:38:27 2009 |
| AUD | 3.2500 | 3.7500 | Tue Nov 3 01:04:14 2009 |
| AUD | 3.0000 | 3.5000 | Tue Oct 6 01:19:15 2009 |
| AUD | 2.8500 | 3.3500 | Fri Jul 10 05:17:18 2009 |
| AUD | 2.8500 | 3.2250 | Tue Apr 7 02:07:20 2009 |
| AUD | 3.0000 | 3.3750 | Mon Feb 9 02:53:30 2009 |
| AUD | 3.1500 | 3.5250 | Tue Feb 3 03:22:01 2009 |
| AUD | 3.0000 | 3.3750 | Tue Feb 3 02:35:17 2009 |
| AUD | 4.0000 | 4.3750 | Wed Dec 17 02:53:00 2008 |
| AUD | 4.1000 | 4.4750 | Thu Dec 4 08:01:09 2008 |
| AUD | 5.1500 | 5.5250 | Tue Nov 4 05:44:00 2008 |
| AUD | 5.9500 | 6.3250 | Fri Oct 31 03:08:09 2008 |
| AUD | 5.6000 | 6.3500 | Fri Oct 31 03:06:58 2008 |
| AUD | 5.9500 | 6.3250 | Tue Oct 7 02:18:56 2008 |
| AUD | 6.9350 | 7.3100 | Mon Aug 18 05:59:12 2008 |
| AUD | 6.9500 | 7.3250 | Thu Mar 6 14:50:46 2008 |
| AUD | 6.7000 | 7.0750 | Tue Feb 12 08:32:05 2008 |
| AUD | 6.4500 | 6.8250 | Mon Nov 12 03:57:55 2007 |
| AUD | 6.2500 | 6.6250 | Tue Sep 25 09:47:17 2007 |
| AUD | 5.7000 | 6.0750 | Mon Sep 24 02:46:04 2007 |
| AUD | 6.2500 | 6.6250 | Wed Aug 8 04:27:28 2007 |
Lending (ask) interest rates apply when OANDA lends you money to buy a currency, and borrowing (bid) interest rates apply when OANDA holds your money. Lending rates are always higher than borrowing rates (e.g., when the bank lends you money, it charges a higher interest rate than it gives you on the money on your accounts). Thus, the relatively smaller rate in the bid column is the interest you earn for being long AUD whereas the larger rate in the ask column is the interest you pay for being short AUD. We would thus be only interested in the bid column. Now let us look at the interest rates for USD over the same period:
OANDA FXTrade

| | | | |
| --- | --- | --- | --- |
| CURRENCY | BID | ASK | DATE |
| USD | 0.1000 | 0.5000 | Fri Feb 3 10:54:48 2012 |
| USD | 0.0000 | 0.5000 | Fri Feb 3 10:54:12 2012 |
| USD | 0.1500 | 0.6500 | Thu Dec 10 08:14:53 2009 |
| USD | 0.1500 | 0.8000 | Fri Jul 10 05:03:35 2009 |
| USD | 0.1500 | 1.1500 | Thu Jul 9 04:59:44 2009 |
| USD | 0.1500 | 1.2500 | Tue Dec 16 14:27:00 2008 |
| USD | 0.4500 | 1.5500 | Fri Oct 31 03:01:54 2008 |
| USD | 1.0000 | 1.5500 | Wed Oct 29 14:21:31 2008 |
| USD | 1.5000 | 2.0500 | Wed Oct 8 07:08:40 2008 |
| USD | 1.8000 | 2.3500 | Tue Oct 7 05:42:54 2008 |
| USD | 1.9000 | 2.4500 | Mon Sep 8 02:54:35 2008 |
| USD | 1.9500 | 2.5000 | Wed Apr 30 15:20:20 2008 |
| USD | 2.2000 | 2.7500 | Thu Apr 3 06:53:59 2008 |
| USD | 2.4000 | 2.9500 | Tue Mar 18 14:52:32 2008 |
| USD | 3.1500 | 3.7000 | Mon Mar 17 03:13:17 2008 |
| USD | 3.2500 | 3.8000 | Wed Jan 30 15:34:33 2008 |
| USD | 3.7500 | 4.3000 | Tue Jan 22 08:27:45 2008 |
| USD | 3.4500 | 4.0000 | Tue Jan 22 08:26:42 2008 |
| USD | 4.1500 | 4.7000 | Wed Dec 12 03:38:34 2007 |
| USD | 4.4000 | 4.9500 | Thu Nov 1 11:32:27 2007 |
| USD | 4.6500 | 5.2000 | Wed Sep 19 01:38:46 2007 |
| USD | 4.9250 | 5.4750 | Wed Jan 31 04:30:57 2007 |
Because we are shorting the USD, we interested in the higher ask rate, as the bank is lending (ask) interest rates of USD to you as a borrower of USD.
Notice how the AUD had a high of 6.25 bid rate in Aug-2007, the height of the housing and commodity bubble, when the USD ask rate was also high at 5.47 ask rate, which represented a positive differential of only 0.78. Clearly, it was not the carry trade back then. Back then the carry trade of choice was probably GBPJPY, as we shall look at later. From looking at the rates above, the carry trade on AUDUSD did not begin to look attractive till USD ask rate plummeted to 0.65 in Dec-2009 while the AUD bid rate remained steady and going up at 3.5 bid rate the same month, representing a positive differential of 2.8 and becoming higher in succeeding months. The AUD rate had lowered to a modest 2.85 in April-2009, which coincided with the lowest 5-year level of AUDUSD, and from then that point on it was a turnaround for the AUD interest rates as well as exchange rates. Interestingly enough, the rates on the Swiss Franc and Yen had also lowered to 0.55 in Dec-2009, which created at a positive differential of 2.95 for AUDJPY and AUDCHF. These three pairs were looking to be 3+% positive differential in the months ahead, which would have been seen as a decent return for investors.
Even at its lowest rate level in April-09, the Aussie was still higher than all other major currencies with rates basement to deal with the crisis, and so when investors started to move back into the carry trade, they moved back into the AUD, most likely against the USD or JPY or CHF, in order to take advantage of the positive differential of the AUD as well as its upside potential to bounce from its price lows. An investor back then would have had to see the turnaround around on the price movement of AUD in April-2009 and by the end of the year see its attractive 2.8 positive interest differential on AUDUSD, or 2.95 differential on AUDJPY and AUDCHF, as further evidence that these pairs can be nice carry trades. Initiating a buy and hold on AUDUSD or AUDJPY or AUDCHF from Dec-209 till Feb-2012 would have paid off quite handsomely. See the chart below.
For AUDUSD, carry trade investors would have earned a nice 3+% differential AND close to 22% price change between Jan-2010 and Feb-2012. On a 100K contract, this would have represented $6000 in interest (3% X 2 years) and $22,000 in price chance (2200 pips X $10 per pip). Ergo, 28% change on a 100K account using 1:1 leverage. For AUDJPY and AUDCHF, carry trade investors would have earned a nice 3+% differential AND close to 7% price change between Jan-2010 and Feb-2012. On a 100K contract, this would have represented $6000 in interest (3% X 2 years) and $7,000 in price change (700 pips X $10 per pip). Ergo, 13% change on a 100K account using 1:1 leverage. Though the AUDJPY price change was not as powerful as AUDUSD, it might be argued that it has more future upside potential, as it has not as yet hit its pre-2008 highs whereas AUDUSD had surpassed its pre-2008 highs in Oct-2010 and had reached an all-time high in April-2011.
Two Sides to the Equation: Interest Rate Differential + Profit/Loss of Exchange Rate Move
If you know that a broker is going to give you roughly 3% annual interest for being long the AUDUSD, and it seems that the currency pair is in an upward trajectory, why not use the power of leverage? With just $10,000 in deposit, one can control a 100K position of AUDUSD (10:1 leverage) and earn a hefty 30% annual return (3%X10). This is pretty sweet, except for the fact a 500 pip adverse move against your position can also cut your $10,000 by an equally hefty 50% (500 * $10 per pip = $5000), and the AUDUSD has been known to fall 3600 pips within the space of three months (Note: July-08 to Oct-08). All carry traders with any degree of leverage would have been wiped out at that time. The reality is, if you want to play the carry, you have to be mindful of the potential risks and dangers (which we will explore a little further along).
Ultimately, the profit (or loss) from a carry trade must factor in the overnight interest plus the currency move itself, as in the following equation:
Profit from "the carry" (interest rate differential) + Profit/loss from the exchange rate movements
If the exchange rate does not change, then you can earn 2.50% on AUDUSD or 2.90% on AUDJPY, if you used no leverage and the broker allows for it.
However, any small adverse change in the currency market can easily put your account in negative.
If you have taken out a 10K lot, and the AUDUSD decreases by 500 pips over the year you hold it, you would earn 2.50% from the interest but be down 5% from the pip decline, which means you would lose -2.50% on your 10K account (-250 dollars). And this is just an adverse move of 500 pips; whatever if you were unlucky, and the AUDUSD declined by 2000 pips.
Even after 2009, there was a time between May-2011 and Oct-2011 when the AUDUSD fell 18% or 1800 pips before recovering from the fall towards the end of the year. Even though the 36% fall in 2008 was an exception, you have to anticipate that a correction of at least 20% can happen on this pair anytime the future. It is from such as 20% possible correction that one has to anticipate one's leverage: a moderately risky strategy would be 1:1 leverage (with the potential of 20% DD) and a more aggressive position would be 2:1 leverage (with the potential of 40% DD).
Could a 20% correction turn into a full-blown price reversal that sends the AUDUSD or AUDJPY into a long-term down-trend? That would be the ultimate nightmare situation for a carry trade investor.
Fortunately, the odds of the AUDUSD or AUDJPY going up or down may not be a 50/50 gamble.
In fact, what makes the carry trade additionally attractive is that fact that the trade direction is biased towards the higher interest-bearing currency. Fundamentally, we can begin to see how this is so when we ask ourselves why countries like the United States or Japan adopt near-zero rates, while a smaller country like Australia maintains a fairly normal rate of return?
Why do Countries have Differing Interest Rates?
The reasons why one currency might have a high-interest rate and the other a low one are tied up with the differing monetary policy of each country's central bank. Besides the ability to control the money supply, a central bank can also adjust the rate of interest up or down for the purpose of influencing economic growth, unemployment, inflation and exchange rates with other currencies.
There are three basic ways a central bank can manipulate interest rates.
1. Expansionist Monetary Policy of Low-Interest Rates.
Usually, a central bank will embark on an expansionist (or accommodative) monetary policy of low-interest rates (less than 2%) to stimulate a weak economy, and/or to tilt the balance of trade back in the favor, and/or to mitigate its debt burden. Low-interest rates can entice businesses to borrow and employ more workers (to improve unemployment), it can devalue the currency to make exports more attractive to foreign buyers (to improve the balance of trade), and it can lower the interest payments to foreign creditors and diminish the debt itself as a result of a devalued currency (to improve its debt burden). The United States has lowered its own interest rates to near zero for all three reasons. It has wanted to improve its 9% official unemployment, its 500 billion trade deficit, and its 14 trillion dollar debt. It embarked on this near-zero interest rate policy following the financial crisis of 2008, and it has maintained this low-interest policy coming into 2012.
The UK and EU followed suit near the same time, enacting their own near-zero interest policy in the hopes of mitigating their own financial crisis. Interestingly enough, Japan had its "asset bubble" burst fifteen years earlier, and they had been favoring a near-zero interest rate policy for more than a decade to unsuccessfully stimulate their economy. Japan is case in point that the zero rate strategy doesn't work so well to stimulate a flagging economy; far from encouraging people to borrow, it actually encourages deleveraging instead, as no one wants to lend at ultra-low interest rates. The record will show that, although central banks cut rates in response to slow growth, countries with persistently low-interest rates tend to have sluggish growth (ergo, such policies do not always work). Another side effect of adopting a low rate strategy is currency devaluation, because of an increase of credit in circulation and investors fleeing the low interest-bearing currency for higher yields elsewhere.
2. Contractionary Monetary Policy of High Interest Rates.
A central bank will employ a contractionary (or tight) monetary policy of high-interest rates (greater than 5%) to reduce inflation and strengthen the currency. The last time the United States embarked upon a tight monetary policy was back in 1982, when Fed Chair Paul Volkner increased the Federal Funds Rate to a peak of 20% in June 1981 to reduce inflation from 13.5% in 1981 down to 3.2% in 1983. The side effect of this high-interest policy is often the creation of a temporary recession with higher unemployment. In the last 30 years, we have seen more dramatic rate cuts than dramatic rate hikes. It now seems that only developing countries facing aggressive inflation adopt rates greater than 6% for their currency.
3. Neutral Monetary Policy of Normal Interest Rates.
A neutral policy of normal interest rates (between 2-6%) is adopted when the economy and currency are working fine on their own accord. The economy seems to be running fine on its own and inflation is under control.
Fundamentally: Lower Interest Rates = Weaker Economy and Currency
Given the monetary picture above, countries that have lower interest rates tend to have weaker economies and/or want weaker currencies. They have set out to sacrifice their currency via the inflationary knife of lower interest because they want to stimulate their economy and/or weaken their currency (to improve the balance of trade or reduce the burden of debt). The United States, Japan and Switzerland had initiated or maintained an expansionist monetary policy of low interest rates with the desire to stimulate the economy (US and Japan), to devalue the currency to favor a better balance of trade (US, Japan and Switzerland) and to devalue the currency to mitigate the debt burden (US). Since the United States had three reasons for lowering interest rates as opposed to Switzerland's one reason, it was the country most invested in a long-term devaluation of their currency.
Actually, lowering interest weakens the currency in two ways: 1) it increases the amount of credit in circulation, which is inflationary; and 2) it makes fixed financial returns of bonds, CDs and the currency itself less attractive to foreigners and to the country's own citizens, who move their money overseas in pursuit of higher rates of return. When the currency devalues, the balance of trade improves because the country's export becomes relatively cheaper and imports become more expensive. Moreover, the devalued currency reduces the overall debt burden because the total amount owed is worth so much less (and there is also less payment owing due to the lower interest rate).
The idea that a country with lower interest rates tends to have a weaker economy and/or desire a weaker currency makes the carry trade doubly attractive: it has the lure of accumulated overnight interest plus the allure of profiting from a strengthening currency.
Fundamentally, then, a carry trade is borrowing from a weak country and currency and investing in a strong country and currency. Economic theorists will argue that carry trades should not yield a predictable profit because the difference in interest rates between the two countries should equal the rate of which investors expect the low-interest-rate currency to rise against the high-interest-rate one. But this theory flies in the face of the low-interest monetary policy previously illustrated. Moreover, the carry trade itself weakens the currency that is borrowed because investors sell the borrowed money when they convert it to other currencies.
Look for Technical Trends to Back Up the Fundamental Bias
When in 2008 most G20 countries except for Australia cut their rates to near zero, it is interesting to look back to see how the AUDUSD, AUDJPY and AUDCHF had been the three strongest pairs in the post-crisis recovery. Let us see how AUDUSD, AUDJPY, and AUDCHF compares with its EURUSD,GBPUSD,EURJPY and GBPJPY counterparts during the post-2008 recovery: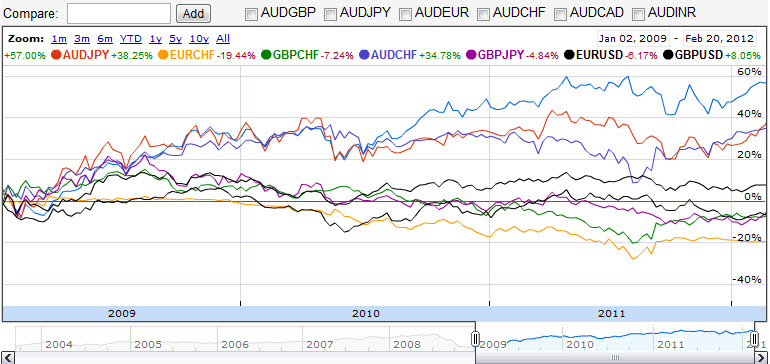 http://www.google.com/finance
As you can see, only the three AUD pairs ended up with significant gains from Jan-2009 to Feb-2012. AUDUSD led the pack with 57%, followed by AUDJPY at 38% and AUDCHF at 35%. All other pairs except for GBPUSD ended up negative for this three-year period.
The speculation as to the why of this phenomenon is that the higher yield of the AUD pair enticed the carry trade investors to invest in this currency, driving it up. Ideally, if one had the foresight to see that all the currencies had hit their basement in 2008 and were bound for recovery, one would have been most wise to prefer the AUD pairs for their greater yield.
Caution: Carry Trades Can Be Dangerous (A Look Back to GBPJPY, 2007-2009)
So far, we have made the argument that the carry trade can be powerful strategy if one can take advantage of the positive interest rate differential of a relatively strong currency pair that coincides with an expansionist monetary policy (and underlying weaker economy/desire for weaker currency) of the pairs one is borrowing from the bank (such as USD or Yen). But there is never a holy grail. One can always point to a scarecrow in the past that boded ill for the carry trade. There is no better scarecrow than the GBPJPY.
The GBP/JPY was a very sexy carry trade for many years. Investors bought the Pound (which had a high-interest rate of approximately 5.5% from 2001-2008) and sold the Yen (which had a low-interest rate of approximately 0.16 from March-2001 to March-2007). They paid low interest on the Yen they were selling/borrowing, and they were paid higher interest on the Pound. The net result was a nice 5.34% annual return on being long GBP/JPY, without leverage. To compound the profits, the GBP/JPY was trending upward for a long time, gaining 8500 pips from March-2001 to July-2007, which works out to be 1300 pips per year for that 6-year period. So carry traders back then would have made a handsome 5.34% annual interest rate plus accumulate what worked out to be a 13% annual return in just the upward price movement, without using leverage. The temptation would have been to use the leverage of at least 2:1, in order to make an average 10.4% annual interest plus what seemed like the potential to make 26% annual return (1300 pips X 2) for a combined 36.4% annual return. It would have seemed that the carry trade on GBPJPY was the holy grail, as it was low maintenance, extremely high yield and reliable. It worked out fantastically for many years for a lot of currency traders. Since it looked so attractive to so many folks who put their money into this one trade, it one day hurt many people very badly when things did not work out as expected.
In the case of the GBP/JPY and other /JPY carry trade pairs, the carry trade started to blow up in July-2007 when GBPJPY reversed violently and swung clearly southward, shaving off 12500 pips between July-2007 and Jan-2009. It took 6 years to rise 8500 pips and only 50 months to fall 12500 pips. Imagine thinking you are going to make 1300 pips per year when instead you will see this pair lose 13000 pips. Years of profits, and most of the principal of these investors would have been erased in this fall. Those traders who did not pull out of their carry trades by 2008 would have lost it all.
Why did the carry trade unwind so violently? The economic recession had moved into full swing in 2008 but there were strong hints of it in 2007, with an increase in credit defaults worldwide and loss of confidence in the credit markets. The Yen began appreciating because it (along with the US Dollar) was seen as a safe haven currency in a time of credit crisis, and a lot of people were converting their foreign assets into Yen, causing the currency to trend upwards. Thus, when the Yen reversed and began strengthening everyone on the /JPY carry trade began to suffer.
Conclusion
The lesson about the Carry Trade is that it remains a sound strategy but it is not without its risks. It is a sound strategy for many of the points we have looked at already: fundamental factors favor the long-term direction of the carry trade, and thus it becomes low maintenance, high yield strategy that can earn money on the overnight interest plus the greater likelihood of earning pips on the price change in favor of the carry trade direction.
At the same time, it must not be forgotten that forex trading, in general, is very risky, and there is no strategy out there that is without risk. The carry trade on GBPJPY pre-2008 had seemed like a reliable strategy: the pair seemed to give a handsome 5.34% interest rate and seemed to move forever upward to give 13% annual return in price change. Those investing in the housing market pre-2007 thought the same thing. Houses were appreciating at 15% per year from 2001 to 2007, and given that most buyers had 10 times leverage granted by the banks (10% down payment), they were hoping to receive 150% on their initial investment per year. But nothing goes up forever, particularly at that rate of return. Behind the scenes, there is a bubble being inflated that is due to pop.
Perhaps the best time to get in on a carry trade is after the higher interest-bearing currency has fallen to record lows and has shown signs of reversing back to the upside. The GBPJPY had fallen 8500 pips from July-1998 to Aug-2000 and by Jan-2001 it was starting to reverse back to the upside. That would have been the time to get on board the carry trade. Perhaps the best time to exit the carry trade is after it has run out of its historical fuel. For the GBJPY, its historical fuel seemed to be 8500 pips. How so? Looking back on the monthly charts, you can see that it has fallen 7700 pips from July-1998 to Aug-2000 and before this, it had risen 8500 pips from Jan-1996 to July-1998. And then, moving forward, it had climbed up 9500 pips from Nov-2000 to July-2007. Wise traders looking at these monthly charts would have seen that the GBPJPY might be running out of steam in 2007 and that it might be best to exit (not enter) this pair after it had reached 90% of its historical pip movements.
What now can be said about AUDUSD and AUDJPY and AUDCHF as the new carry trades? Again, probably the best time to get on board both these pairs would have been after the worst of their fall in 2009, and when the interest rate differential started to look attractive in Dec-2009. Barring that best opportunity, and you are wanting to flirt with the carry trade today, the more preferable trade would be on AUDJPY. Why? The AUDUSD has already risen 5000 pips since its low in 2009. This is a significant amount of pips for this pair. Bear in mind that the AUDUSD had risen 5000 pips from Jan-2001 to its high in July-2008, right before its fall. So, 5000 pips might be all it has in its fuel tank, just as 8500 pips was all the GBPJPY had in its fuel tank. It is thus a risky trade at the present time. Looking at the historical charts of AUDCHF, you can see that it moves in 2500 pip directions up or down, and since it has already moved 2500 pips from its low in 2009, it is now a risky trade as well.
What about the fuel tank of AUDJPY? Looking back on its monthly historical charts, you can see it can also move 5,000 pips in up or down directions. It has moved upwards approximately 3,000 pips from its low in 2009, so it still has 2,000 pips fuel left to move upward. If one is impatient to start a carry trade, then this would be the preferred pair at this time. But please do so with the lowest possible leverage because a correction of 1,000 pips can easily happen. Given that its counterparts, the AUDUSD and AUDCHF, are reaching their own pip highs, it might be safer to wait for AUDJPY to correct 1,000 pips or more before taking a long buy and hold carry trade upon it.
In short, every good strategy, including the carry trade strategy, is about timing the market just as much as it is about getting the direction right. With the carry trade you have to be able to get in at the lowest price and out at its highest. You don't have to abandon the carry trade because of what happened to the former "great" GBPJPY carry trade during the credit crisis of 2007-2008. Instead you can learn from its failure and try to assess a future great carry trade not only by its interest rate differential, but also by its current price (how many pips it is up from its monthly swing low) and historical fuel storage (how many pips does it typically travel up or down on trend reversals, on the monthly chart). Then you can set up percentile move rules for entering and exiting your carry trades. For instance, you can decide that you should only enter carry trades when the pair has traveled less than 60% of its historical pip movement from the last reversal point. You can then decide that you should begin exiting the trade when it has traveled close to 85% of its historical pip movement. Such rules would be easy to follow and work greatly to minimize your risk for this attractive buy and hold strategy.