Share
Share this page!
Articles menu
What is Ichimoku Kinko Hyo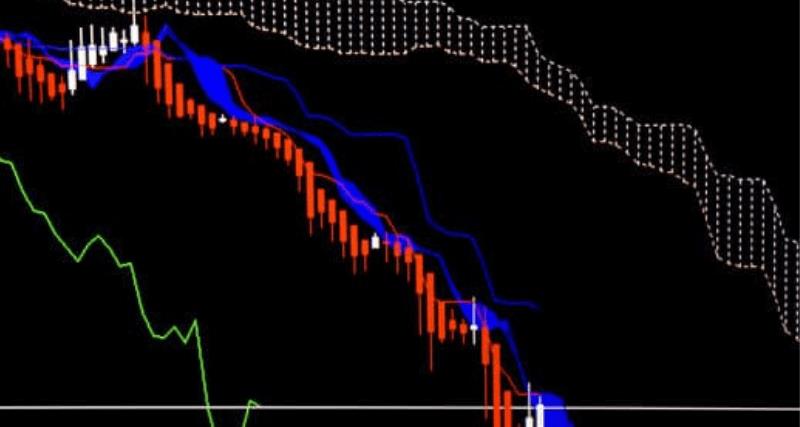 You might have seen or heard about the beautiful looking Ichimoku Kinko Hyo indicator ((Ichimoku Kinkō Hyō, or, simply, Ichimoku), with its eye-catching moving averages and dynamically unfolding clouds.
The name translates from Japanese to "Equilibrium chart at a glance," aptly describing how its five separate components come together to form a "whole" picture of price action to be seen "at a glance". One simple look at an Ichimoku chart is said to provide its practitioners with an immediate understanding of sentiment, momentum and trend strength. Discover how to use it in this complete article.
The background story is intriguing. While an indicator is usually formulated by statisticians or mathematicians in the industry, this indicator was, strangely enough, developed before WWII by a Tokyo newspaper writer named Goichi Hosoda and a handful of assistants running multiple calculations.
After 20 years of testing, Mr. Hosoda finally released the system to the public in a book published in 1968. The indicator has been used extensively in Asian trading rooms since Hosoda published his book, though it did not make its appearance in the West until the 1990s.
The Ichimoku Kinko Hyo indicator consists of five main elements:
Tenkan-sen ("turning line"): a 9-period fast moving average based on High-Low difference rather than traditional Close levels,
Kijun-sen ("standard line"): a 26-period slow moving average based on High-Low difference rather than traditional Close levels,
Senkou Span A ("1st leading line"): average of Tenkan-sen and Kijun-sen plotted with some shift in the future,
Senkou Span B ("2nd leading line"); average of maximum and minimum price for the given period plotted with the same shift in the future,
Chinkou Span ("lagging line"): price Close level plotted with the same shift but in the past.
Senkou Span A and B together form what is known as Kumo cloud.
The chart below shows the five elements in their complete set-up: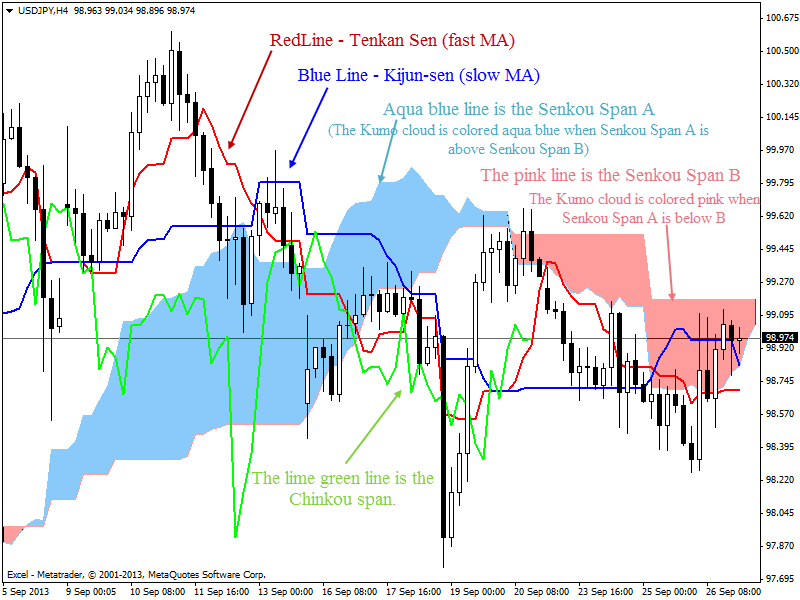 Apparently, there are different ways to trade with Ichimoku Kinko Hyo: one can trade the Tenkan/Kijun cross, like the MACD, or trade the Kumo cross, or trade the cross of price with any of Ichimoku's five lines.
For decades the Ichimoku Kinko Hyo system had been a manual system meant for the trader to see at a glance the interaction and balance of each of its five main indicator lines in order to capture medium term trends.
But the problem with manual systems is that they hard to quantify: one cannot know for sure how well they have done in the past, or how well they might work out in the future. Moreover, the Ichimuku system has many variations on how to trade it, from taking a crossover or confirmation from any or all of the five line elements, and it is hard to know for sure which variation works the best.
Is this article helpful? Share it with a friend