Share
Share this page!
Tento prostředek není k dispozici v Čeština a je zobrazen v Angličtina.
Articles menu
Bitcoin Price Prediction
Updated 13 September 2021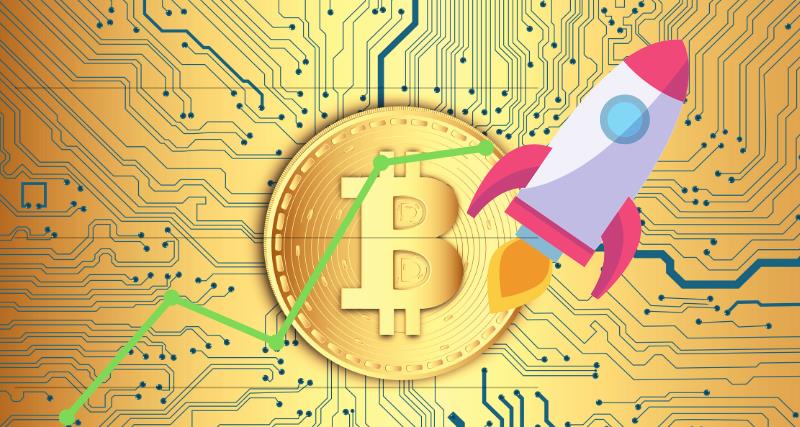 Bitcoin is the trading instrument with the highest gains ever on history. Can the Bitcoin price still climb far higher from current levels? The prediction of several investors and entrepeneurs is yes!
KEY TAKEAWAYS
The supply of Bitcoin is limited to 21 Million BTC.
Bitcoin market capitalization, as of 23nd February 2021, is 600 billion US Dollars.
Bullish analysts predict the price of Bitcoin at 100,000 USD by end of 2021.
Bitcoin is predicted to reach an all-time high of 1,000,000 USD by 2037.

Since its creation, Bitcoin's price has experienced a rollercoaster of price spikes and retracements, several positive and negative news and cryptocurrencies market analysts have mixed opinions on its future.

In short, from the glories of December 2017, when Bitcoin versus the US Dollar touched the 20,000 USD mark, to the sharp decline in 2018 to 3,900 USD.

After this decline, Bitcoin price attempted to stabilise in 2019, closing the year around the 7,200 USD and trading in a rangebound throughout the last quarter of 2020. By October 2020, Bitcoin become more volatile and also due to a lot of chatter on social media by billionaire and digital currencies enthusiast Elon Musk, the price surged to the 40,000 USD mark!

Looking back, it is clear that Bitcoin is not exactly the right asset for those who want to sleep soundly and those who want to shelter themselves from volatility.
Bitcoin Price Prediction: Fundamental Analysis
It remains difficult to do any fundamental analysis on the Bitcoin price. This cryptocurrency continues to be a great asset in value and is performing better than even gold at a time of great uncertainty for the markets in general.

Bitcoin's position as an investor safe-haven from the uncertainties of the market is consolidating, although it still is a high volatility instrument. The next long phase of economic uncertainty awaiting the markets, also in the future, will be BTC next test.

While the big momentum boost of early 2021, and reaching the 60,000 USD mark in April 2021, seems to be gone for the time being, and with Bitcoin prices losing momentum and declining to a yearly low of 30,000 USD, it remains equally true that currently trading above 33,000 USD is a sign of the asset's strength. But what is the general Bitcoin price prediction for 2021?

In the next few lines, we will try to understand what to expect - and what not - from Bitcoin and we will see what the main analysts think.
Bitcoin Price Prediction for 2021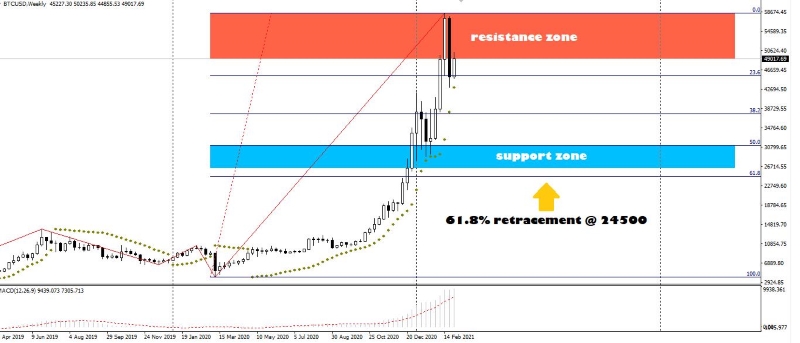 The end of 2020 is marked by a substantial surge in the Bitcoin value. As the year ends, its price has broken through 28,500 USD, and according to several analysts the forecast is still bullish.

Since the Bitcoin value has passed the psychological threshold of 20,000 USD, last year, the growth has been very sharp and several investors wonder if it is still worth buying Bitcoin today in anticipation that 2021 will bring more bullish investors to the game and the possibility that BTC may reach further records.

But, what to expect in 2021? Is Bitcoin due for a rather major retracement, which could replicate what happened in 2018, after the market surge of late 2017?

The fear of most investors is just that. Namely, that Bitcoin, after a 2020 to remember, especially in the last quarter, could fade its expectations and replicate the bubble burst of 3 years ago.

That would be a blow to the market's optimism, which nevertheless, compared to 2018, is experiencing a period of renewed maturity, and which certainly cannot be compared to what happened at the time, when expectations of Bitcoin were more uncertain. Today the market is different.

Bitcoin is a project that has successfully navigated its first decade of life, and is now driving a rich and diverse ecosystem that is unlikely to disappear in the short term, or implode on itself. So, is it worth buying in 2021?

There are many reasons why the market should remain optimistic, since many institutional players, from investment banks to fund managers, have entered this market and injected more live to it through their large volumes.

Tom Fitzpatrick, a senior analyst from Wall Street giant Citibank, one of the best known and most active American investment banks in the world, recently wrote in a note to institutional clients that the Bitcoin value could exceed the 300,000 USD mark by the end of 2021!

This figure could be far-fetched, and probably unreasonable in the short term. Therefore, while the market is still very bullish, to fuel a sustainable surge to this value, the cryptocurrency market needs to grow further and will certainly grow with particular vigour in the coming months.

However, uncontrolled growth, with capitalisation increases of 1,000% in less than a year, could be also destabilising, and without discouraging expectations, our view is that BTC might be unable to go much higher in the coming months, perhaps engaging in a consolidation of its price.
Bitcoin Price Outlook
After a strong correction in recent weeks, Bitcoin continues to trade around the 38/39,000 USD mark, with swings ranging from 33,000 USD to 39,000 USD. BTC has been trading at these levels for several days now, with strong support found at 35,000 USD, which even significant selling has failed to overcome.
Nevertheless, the positive news about this cryptocurrency, in terms of acceptance by the financial markets, suggests a positive trend ahead.
Bitcoin Price Short-Term Outlook: Bullish
Bitcoin has experienced a period of relative calm, with general press coverage focusing mainly on other cryptocurrencies in the sector. The outlook is even more inviting than December 2020, when Bitcoin posted one of the highest values increases in its history.

The week-on-week increase is over 10%, which is very encouraging and also indicative of what traders and investors think of this cryptocurrency.

We are still a long way off, at least according to those who seriously invest in this cryptocurrency, from a possible bubble and the return of BTC to values that, albeit inexplicably, are considered more appropriate.
Bitcoin Price Prediction Medium-Term: 100,000 USD by end of 2021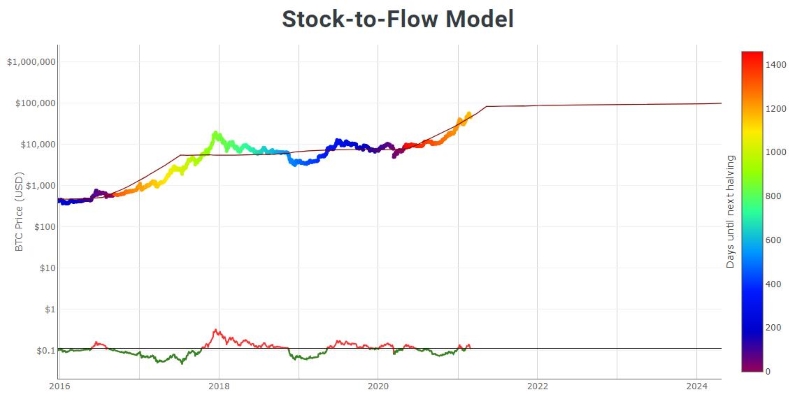 This is the view of Global Macro Investor, an analyst firm led by Raoul Pal, the creator of one of the most historically accurate Bitcoin price prediction models, who believes BTC should hit at least $100,000 by the end of 2021.

But why does Raoul Pal have such an optimistic medium-term view on Bitcoin prices? PlanB forecasts adopts a stock-to-flow pricing model that is based on the existing supply of an asset relative to what is coming into circulation in the market.

In doing so, it turns out that commodities, such as gold, are credited with the largest stock-to-flow ratio of 62. That is, the forecast model would require 62 years of gold production to generate the current stock of gold.

This results in a good valuation in relation to the scarcity of this asset. Silver has the second largest stock-to-flow ratio in the world, with 22 years of production to reach the current stock of silver.

Bitcoin currently has a very attractive stock-to-flow ratio of 50, accurately predicted by the model as a consequence of the Bitcoin block reward halving in May 2020.

However, Raoul Pal is not alone in believing that the Bitcoin price might reach the 100,000 USD mark by late 2021.

In December 2020, Morgan Creek Digital co-founder, Anthony Pompliano, also predicted that BTC could reach 100,000 USD by the end of 2021, pointing to looser monetary policy from global central banks, diminishing supply, all coupled with an increased demand from institutional investors, that could help the Bitcoin price surge to 100,000 USD.

Bitcoin owners are hoping that the digital currency can be priced at 100,000 USD within the next two years but... how true is this?

Actually, even though Raoul Pal stock-to-flow calculation model is considered to be quite accurate, it is certainly not the first time that its estimates prove to be overly optimistic.

Still, Bitcoin is a more optimistic market than in the past, so much so, that many institutional investors have already entered the market, and others are preparing to bring large sums of money into the cryptocurrency sector, generating new sustainable growth and trading in this market.
Bitcoin Price Prediction Long-Term: 1,000,000 USD by end of 2037
If a target price of 100,000 USD in 2021 sounds nice, well, what should we say about Golden State Warriors founder and co-owner Chamath Palihapitiya's prediction that not only will BTC should reach 100,000 USD in 2021, but it will also break through the 1,000,000 USD mark in the next 20 years!

Chamath Palihapitiya's name is certainly not new to the Bitcoin market. His experience with digital currencies began in 2012 with an initial investment, while in the following year, he included Bitcoin in his private hedge fund. Rumours have it that at one point in his cryptocurrency adventures, he even owned 5% of all Bitcoins in circulation!

Well, Palihapitiya has predicted that the price of Bitcoin will reach a price of 1,000,000 USD per single BTC by 2037.

According to Palihapitiya, in fact, Bitcoin has the potential to be comparable to gold, thus becoming an exceptional form of hedging, and a valuable safe haven asset against banking infrastructure.

Also, Wenceslao Casares, founder and CEO of Xapo, a Bitcoin wallet start-up, and a board member of PayPal as part of his non-profit activities, thinks the same. Casares sparked his interest in Bitcoin after the 2008 financial crisis and the high volatility of fiat currencies. For this reason, he bought his first Bitcoins in 2011.

But, compared to Palihapitiya, Casares has accelerated the path to the 1 million mark. The founder of Xapo claims that Bitcoin will reach 1,000,000 USD before 2027, which is 10 years earlier than the Palihapitiya prediction.
Bitcoin Price Predictions: Estimates of Some Well-known Entrepreneurs
Similar to the US gold rush in 1848, it seems several investors want to jump on the digital currency bandwagon in the hope of becoming rich by trading Bitcoins.

Or by simply buying and holding them until the price reaches that high value where investors will be able to sell them and live a financial stress-free life.

Below, you can find the estimates by some of the leading entrepreneurs in the tech world of how Bitcoin's price could evolve over the next few years. And whether 2021 will actually could be a bullish year for the BTC price.

One thing is certain, they all agree that Bitcoin will always go up. But, will it really? While 2021 is just starting, let's see what these entrepreneurs predict for the BTC value, in descending order:
Bitcoin Price Prediction at 700,000 USD
That's what John Pfeffer, partner at London-based Pfeffer Capital thinks. According to Pfeffer, in the medium-term, Bitcoin will rise to 700,000 USD.

Pfeffer bases his bullish view on the assumption that Bitcoin can replace all the gold currently held by private investors. In other words, the gold bars that people hold in safety deposit boxes, or elsewhere, should be converted into Bitcoin, as the digital currency is much easier to deposit and protect.

Now, given that the current value of all privately owned gold bars is estimated to be about 1.6 trillion USD, and assuming that there will be 21 million Bitcoins in circulation when cryptocurrency completely replaces gold, it means that the implied value of one Bitcoin could be 100,000 USD. And that's Pfeffer's most conservative scenario.
Bitcoin Price Prediction at 500,000 USD
Then there are those who think Bitcoin will skyrocket to pass the 500,000 USD mark.

Jeremy Liew, a partner at Lightspeed Venture Partners, and one of the early investors in the Snapchat app, as well as an investor in LedgerX, one of the most popular cryptocurrency wallets, also believes Bitcoin will reach hundreds of thousands of dollars per coin.

Liew said that Bitcoin's price can realistically reach 500,000 USD by 2030.

Mark Yusko, the billionaire founder of Morgan Creek Capital, went on Bloomberg News to expose his Bitcoin price prediction. His prediction for the Bitcoin digital currency is that it will be worth over 400,000 USD in the long term.

For many analysts and entrepreneurs, going long on the Bitcoin digital currency is the only thing to do.

Yusko bases this valuation on supply and demand, given that if Bitcoin is the digital equivalent of gold, and there are about 20 million Bitcoins available today, and if gold is worth about 8 trillion USD today, the result for Bitcoin would be an estimated 400,000 USD per coin.
Bitcoin Price Prediction at 250,000 USD
Roger Ver is one of the most well-known names in the Bitcoin community. One of the earliest investors back in 2011, Ver bought 25,000 USD worth of Bitcoin (at 1 USD at the time, and worth over 1 billion USD today). Ver has also a good amount of assets in the cryptocurrencies world and direct investments in industry start-ups such as Bitinstant, Ripple, Blockchain, Bitpay and Kraken.

In an interview a couple of years ago, Roger Ver stated that the Bitcoin price could be worth up to 250,000 USD by 2030, due to Bitcoin's great potential as a safe-haven value asset.
Wrong Bitcoin Price Predictions
Back in 2017, Kay Van-Petersen, a senior analyst at Saxo Bank, and a famous Bitcoin bull, predicted that the value of Bitcoin would have risen to 100,000 USD by 2018. After the long 2017 bull run, with Bitcoin nearly touching the 20,000 USD mark, 2018 was in fact a corrective year with the digital currency closing at 3,100 USD. And we are now in 2021 and the price still has a long way to go to touch the 100,000 USD mark.

In January 2018, Tom Lee, co-founder and head of research of Fundstrat Global Advisors, predicted that Bitcoin would reach 25,000 USD by the end of the year. However, the digital currency value dropped to below 3,200 USD by December of that year.

Adding to the misery, later in March 2018, in an article published on Forbes, Tom Lee predicted that the BTC value would have reached 91,000 USD by 2020. And again, that proved to be wrong.
Conclusion
The adoption of Bitcoin as a medium of exchange and a safe haven value within the global financial market, could grow exponentially, so that the digital currency prices in the medium term would not be a utopian quotation.

It can also be a focus for both traditional and next-generation investments, and the market capitalisation of all digital currencies could rise to several trillion dollars within the next 10 years.

Speaking of market capitalisation, recent reports show that the value of all digital currencies, expected to grow at a compound annual growth rate (CAGR) of 30%, will rise to the incredible figure of over 5 trillion USD, in 2026, half of the current global gold market cap of 10 trillion USD.

Several entrepreneurs and investors are dubbing Bitcoin as "Gold 2.0", but as the gold rush in the USA in 1848-1855, the one's really making a profit where the one's selling shovels. And as Bill Gates and Elon Musk recently warned: "Don't sell your house to buy Bitcoins".

If you would like to discuss the contents of this article, please use the comments section below. Tell us what do you think for the future of Bitcoin, or where you think the price might go.
Is this article helpful? Share it with a friend